Today I'm linking up with Deb Duty Photography for her first link up entitled This or That Thursday!
For those who follow me, you know that Country Boy and I just planted our fall garden. It's coming along nicely and I'll post updates at a later date. I wanted to show you a cucumber plant that Country Boy 'rescued' out of our hillbilly compost bin!
He planted it in a pot and it is throwing out all kinds of blooms. We've even got some small cucumbers on it.
Mmmm, sweet gherkins come to mind! Hopefully, I'll get enough to make a batch!
Stop by Deb's blog and check out some great photography and get inspired!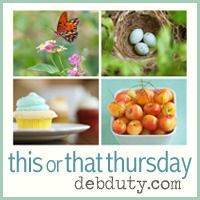 Till next time,