Country Boy and I love to camp! There's something about the fresh air and the relaxed atmosphere and, of course, camping food! Fortunately, we're able to do some 'camping' in our own backyard and yet sleep in our own bed come nightfall! The weather has been really nice here, so we've been doing some cooking outdoors.
The other night we decided to cook steak, keilbasa (for me, since I don't eat steak!) and baked potatoes over the campfire.
Waiting for the 'right temperature...
Starting the baked potatoes...
The above shot was taken before the taters were buried in the coals.
Time for some meat...
... taters are still buried.
Looks like it's ready so grab a plate...
because dinner is served! MMMmmm!
For us, cooking outdoors has many benefits. We enjoy the teamwork involved in prepping and cooking outdoors. We enjoy taking some time to relax around the campfire while the food is cooking. It's also aiding in our conservation efforts by not firing up the electric range. There's also less clean up in the kitchen and it tastes good!
One day, we would love to have a wood-burning stove in the house to do all my cooking on. Cha-ching$$$$$ That's going to take a LONG time of saving pennies though because there are other projects that require money that need to be completed first!
Speaking of projects and food (and doesn't involve money *smile*)... today's project is sorting through mountains of recipes that I have collected over the years (because they looked and sounded good!) and deciding whether to keep it or toss it.
My sorting method... if it calls for ingredients that I don't normally have stocked in my pantry, it's tossed. The rest will be categorized by various meats, side dishes, salads, beverages, desserts, etc. and put in a notebook. If I ever run out of projects (hahahaha!) I would like to enter them into the computer and then eventually print it out. The reason for the hard copy in this day of electronics? There are a couple of reasons, one, something could happen to my computer and all my recipes would be gone. Two, if the power is out for any length of time and my laptop battery is dead... oops, I can't get to my recipes! Thus, a hard copy is handy to have on hand.
Linking up with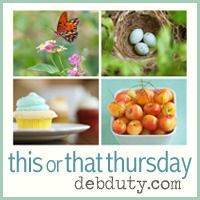 Enough procrastinating on tackling today's project...
Till next time,