Today I am starting a new project that I am really excited about!
Yes, it does involve yarn but it's the reason behind this new project that has me so excited.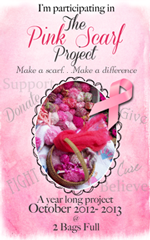 To quote Vicki, The Pink Scarf Project has only one goal -
"
To bring a smile to the face of a woman who is fighting her own battle with breast cancer."
I, personally, have lost several friends to the horrible disease of cancer. To be able to honor and remember them by participating in this project and to, in turn, put a smile on someone's face who is currently battling this disease in the form of breast cancer gives me great pleasure.
I will be making a couple of scarves; a frilly, knitted ruffle scarf and the other a simple two-stitch crochet scarf out of some shimmery rainbow boucle yarn.
As I am working on each scarf I will be praying for the recipient of that scarf.
This is a year long project that started last October and will be coming to a close this October.
If you would like to participate, please check out the details by clicking HERE. You don't necessarily have to knit, crochet or sew. You can participate by purchasing a scarf as long as it's primarily pink.
This would also be a great project for a ladies club, craft group, or church project.
I would love to see many of my friends, family, church family, followers, etc. get involved in this simple yet effective and meaningful project. If you decide to participate I would love to know!
This afternoon I will proudly be adding The Pink Scarf Project badge to my sidebar. Meanwhile, I want to get started on the first scarf, yay!